Changes imposed by Louis DeJoy are causing mail delays ahead of an expected major expansion of mail-in ballots in the upcoming election.
Mathhew Daly | AP
WASHINGTON (AP) — The House Oversight Committee has invited the new postmaster general to appear at a September hearing to examine operational changes at the U.S. Postal Service that are causing delays in mail deliveries across the country.
The plan imposed by Louis DeJoy, a Republican fundraiser who took over the top job at the Postal Service in June, eliminates overtime for hundreds of thousands of postal workers and orders that mail be kept until the next day if postal distribution centers are running late.
Rep. Carolyn Maloney, a New York Democrat who chairs the Oversight panel, said the Sept. 17 hearing will focus on "the need for on-time mail delivery during the ongoing pandemic and upcoming election," which is expected to include a major expansion of mail-in ballots.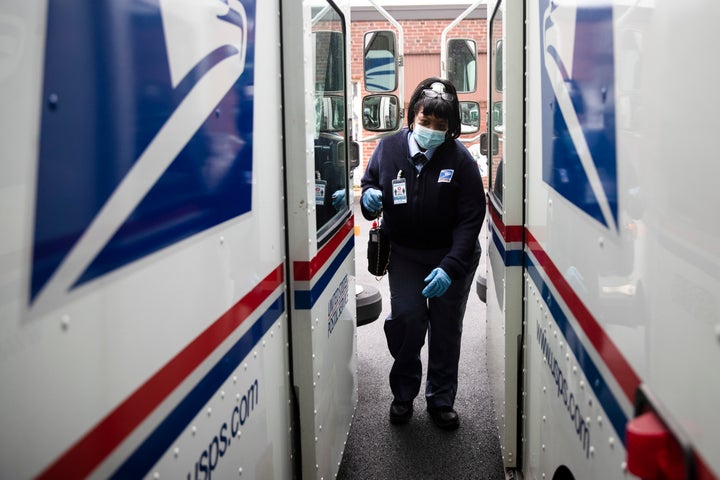 President Donald Trump has warned that allowing more people to vote by mail will result in a "CORRUPT ELECTION" that will "LEAD TO THE END OF OUR GREAT REPUBLICAN PARTY," even though there's no evidence that will happen. Trump, Vice President Mike Pence and other top administration officials frequently vote absentee themselves.
Last week, Trump even floated on Twitter the prospect of delaying the Nov. 3 election — an idea lawmakers from both parties quickly shot down.
Trump said Monday that the cash-strapped Postal Service is ill-equipped to add the expected influx of mail-in ballots to its responsibility to deliver mail and packages from the boom in internet shopping.
"I don't think the post office is prepared for a thing like this," Trump said at the White House.
Trump also has called the Postal Service "a joke" and said package shipping rates should be at least four times higher for heavy users like Amazon. But shipping and packages are actually a top revenue generator for the Postal Service, and critics say Trump is merely looking to punish Amazon founder and CEO Jeff Bezos in retaliation for unflattering coverage in The Washington Post, which Bezos owns.
The Oversight committee intended to have the hearing with DeJoy this week, Maloney said, but was told DeJoy could not attend because of a meeting of the Postal Service's Board of Governors. DeJoy has confirmed his availability for the September session, she said.
The hearing comes as the Postal Service is reeling from mail delays and financial problems, even as record numbers of mail ballots are expected in the presidential election because of the coronavirus pandemic.
Read more >> http://ow.ly/lLOu50AQFZv